Portfolio manager summary
Exro (EXRO), a wind power equipment founded by a former mutual fund salesman, made a pivot in 2018 to EVs – a flurry of press releases followed this pivot, and the stock has rallied over 1200% over the last twelve months
Recently touted partnerships are pegged as key growth drivers
Our investigation found that EXRO's partnerships have limited, if any, value
One of its oldest and most touted partnerships, with Potencia Industrial, has been marred by repeated delays and no revenue
One of EXRO's other partnerships, a vendor "focused on the mass production of commuter electric boats", is based out of a UPS store mailbox
EXRO's other celebrated partnerships include a single storefront in Vancouver, a "leading" Finnish snowmobile manufacturer with <€600k in revenue, and an agricultural equipment company with no planned capex until 2022 – these unimpressive partnerships support our view that the hype around Exro is misplaced
This pattern of obfuscation and exaggeration appears to be reflective of tone at the top. EXRO was taken public and led by a BC entrepreneur who we believe exaggerated his prior successes – in one case, we could not confirm his claims that he founded a successful healthcare business
This same BC entrepreneur was CEO of Unity Wireless, which ultimately collapsed 87% during his tenure – the entrepreneur was KIDNAPPED by an angry counterparty alleging that Unity was a "pump-and-dump"; in the kidnapper's ensuing trial, the entrepreneur admitted in testimony that other Unity shareholders tried to get him to participate in a pump-and-dump scheme
Our sources, which include auto OEMs and others, suggest that EXRO is far from getting a seat at the table with any auto manufacturers of consequence
Since 2016, EXRO has spent 4x more on opex than R&D – calling into question whether this is really a technology business
Despite a furious pace of press released "opportunities", the CEO has blown out of almost 20% of her holdings in a short period as EXRO's stock rallied
Our view is that EXRO is little more than an exaggeration designed to line the pockets of insiders, and we assign a $0.35 price target to the stock, down over 90% from current levels
EXaggerations
Exro (EXRO) was founded in 2005 by former mutual fund salesman Jonathan Ritchey, who launched the company with a focus on generators in the wind power space. Despite a long list of patents, EXRO was unable to generate meaningful revenues, and in 2017 went public through an RTO with Mark Godsy, a British Columbia-based stock promoter and "entrepreneur" at the helm.
It is our view that EXRO's current claims and partnerships, like Mark Godsy's background, appear to be overexaggerated, and that EXRO exists to enrich its management team.
In this article, we discuss the following:
EXRO's pivot to EVs after being unable to generate revenue in the wind space
Findings from our conversations with auto OEMs and experts that suggest that EXRO is unlikely to ever become an automotive supplier of consequence
Missed expectations around EXRO's Potencia partnership
What appears to be clear overexaggeration for no less than four other EXRO partnerships including a company based out of a UPS box and another operating out of a single Vancouver storefront
An apparent underprioritization of R&D spend
A CEO in a hurry to sell stock
Irregularities in former CEO and current chairman Mark Godsy's background and an apparent pump-and-dump of a company he led
EXRO, in our view, is very good at pouring out press releases, but our work suggests the substance of these releases to be lacking, and the company's results thus far have amounted to near nothing.
The electric slide
EXRO's 2017 listing document showed that for the two years ending January 2017, EXRO had just one quarter where it generated ANY revenue, suggesting it had not had much product success in wind turbines:

Source: Listing document
Given the lack of revenue development and, in our view, investor excitement about wind energy, it is therefore not terribly surprising that EXRO made a public pivot to the EV space in early 2018: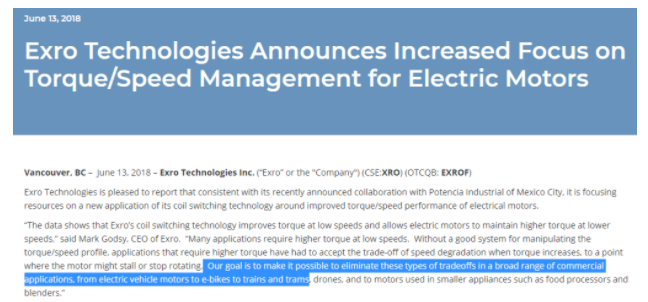 Source: Press release
With all the publicity the EV space was getting in 2018, what better area was there for EXRO to pivot to? What better way to get investor attention than to join the roster of small cap EV companies? All things considered, EXRO, with a product set targeted to electrical motor applications, could credibly make this pivot.
The ensuing flurry of press releases and investor optimism about electric vehicles led EXRO's stock up over 1200% over the last year.
After learning more about EXRO's product offering and partnerships, we believe EXRO's success in EVs will mirror its success in wind turbines – that is, it is most likely to fail miserably and ultimately generate no meaningful revenues.
Below, we show why we think EXRO's strategy is flawed, why we believe its announced partnerships are vaporware, and why we believe investors should be concerned about its Chairman/former CEO's past.
What does EXRO DO?
Investors could be forgiven for not understanding what EXRO means when it says:

Source: EXRO website
We were certainly confused. A further look reveals that EXRO has its sights set on two main business areas:
Coil switching
Battery control systems
EXRO's coil switching technology apparently allows for electric motors to switch coil configurations to optimize motor performance:

Source: EXRO
This sounds well and good – if EXRO's target markets cared about it. Our research into EV applications found the following:
None of the EV OEMs or sellside analysts we spoke to were familiar with coil switching
EV manufacturers have tended to prefer internally developed IP
Our view is that EXRO's technology for EV application is a longshot at best – one, because it does not appear that OEMs are focused on optimizing power in this manner and two, because EXRO does not possess a fraction of the qualifications needed to supply major producers.
On the battery management side, we learned that OEMs typically develop their battery management software in-house. In addition to having to compete with in-house development, EXRO's positioning is also substantially weaker because NONE of its patents have anything to do with batteries, artificial intelligence, machine learning, or any other buzzwords found in EXRO discussions: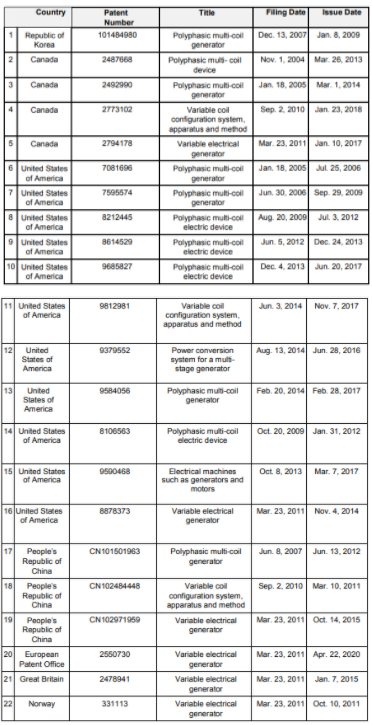 Source: AIF
EXRO is unlikely to become an automotive supplier
Technology aside, with marketing like this, we think that EXRO wants investors to believe that it's going to supply EV manufacturers with its products: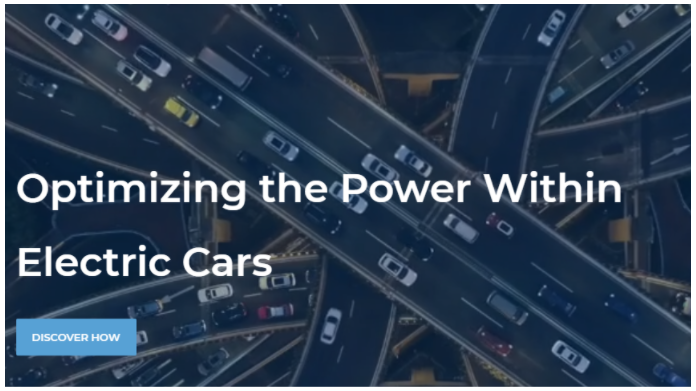 Source: EXRO website
While this is an admirable goal, we believe the likelihood of it actually happening is extremely low. Becoming a supplier to any auto manufacturer of scale requires a rock-solid balance sheet, years of testing, and a proven technology. We believe EXRO has none of these.
The simplest way to explain our view is around the idea of supplier qualification. For a part or component to be automotive qualified, "…manufacturers have to meet specific industry standards throughout the manufacturing and testing process. Three key standards are IATF 16949, AEC-Q100 and AEC-Q200:"

Source: Qorvo
IATF 16949 cannot be implemented on a stand-alone basis – it must be implemented as a supplement to ISO 9001, another standard.
EXRO's own filings do not even mention ISO 9001 or IATF 16949 – leading us to conclude that EXRO does not meet those standards. This, in fact, does make sense, since EXRO does not even have a manufacturing facility.
Further, "because cars last much longer than other electronic devices, manufacturers typically must ensure a supply of each automotive component will be available for 10 years." As we show below, EXRO has been unable to meet stated prototype deadlines; it's a stretch to think they could ensure the supply of anything for ten years.
In the next sections, we highlight several highly publicized, but eventually delayed or failed business announcements and series of partnerships with tiny companies we believe are unlikely to move the needle.
Failure to launch is a sign of things to come
In December 2017, EXRO announced that it was working with a Fortune 50 company on drones:

Source: Press release
No further detail about the partner was provided, and in February 2018, EXRO updated investors to tell them that things were "more difficult and time-intensive than originally planned":

Source: Press release
Apparently, things seem to have been too difficult and time-intensive – EXRO never mentioned the Fortune 50 drone effort again, and doesn't appear to have recognized any revenues from it:

Source: 2019 AIF
Below, we show you more of the same – execution issues and partnerships with companies that we believe are unlikely to result in any revenue.
Potencia partnership – moving the goalposts after each missed kick
One of EXRO's most press-released current partnerships is with Potencia Industrial, a Mexican industrial goods company. EXRO is allegedly providing Potencia with its coil driver technology for Potencia's Pronto Power technology, which Potencia describes as a "concept design":

Source: Potencia website
While this sounds straightforward, as with all things we like to look at, the Potencia relationship is much more complicated – investors have been treated to bullish announcements and promises of actual revenue only to be shown delays and no cash flow. We show all this below.
EXRO first announced its Potencia partnership in May 2018, announcing a collaboration in three areas: electric motors for car conversions, generators for wind turbines, and electric motors used in trams and trains: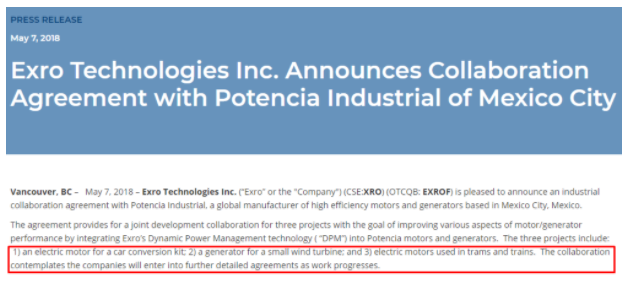 Source: Press release
Just six months later, in November, EXRO's focused narrowed on just the motor project, and management claimed they were just "contemplating" the two other areas. The motor project entails "exploring the integration of Exro's hardware and software into Potencia's motor drives":

Source: Press release
A month later, in December, EXRO said that a prototype of its "intelligent battery management system" (IEMS) would be delivered to Potencia by 2Q19:

Source: Press release
In the same release, EXRO also claims to have received a "pilot purchase order" from Potencia for the prototype:

Source: Press release
So now we have EXRO setting two major expectations for investors:
Prototype delivery by 2Q19
Potential revenues from a purchase order
RESULT: By 2Q19, no announcement of a prototype delivery or revenues has been made.
The next we hear about the Potencia partnership is nine months later, in September 2019, when EXRO announces it has received a production order for approximately $500k for Motor Drivers, one of five modular units in the IEMS, of which delivery is anticipated to commence in 1Q20:

Source: Press release
RESULT: By 1Q20, still no revenue, and no delivery announcement. The Company replied to us that the lack of revenue was due to EXRO moving to "Stage Two", a different product. We find this unusual since Stage One produced no revenue:

But then in June 2020 – another order? Expected to be delivered to Potencia by "4Q19"?

Source: Press release
Come August 2020, and EXRO announces it delivered the Motor Driver in June, and that it's being tested at Potencia with expected testing completion by end of October 2020:

Source: Press release
RESULT: By October 2020, no announcement of completed testing.
And then on February 3, 2021, EXRO tells us that "testing was delayed prior to Christmas", and that they are "looking forward to sharing the performance results as soon as they are completed in third quarter 2021":

Source: Press release
What we have here is a series of moving targets, and we are not optimistic that EXRO will succeed in meeting this most recent bogey.
We also reached out to Potencia to clarify this situation, and we were told by the person on the phone that EXRO had asked Potencia not to talk to anyone about the partnership, but that nothing had been finalized.
This, plus the constantly changing targets and lack of revenue (see below) suggest a problem with execution and management.
It's critical to note that despite claiming to have received orders, EXRO has not booked ANY revenue in 2019 and YTD 2020: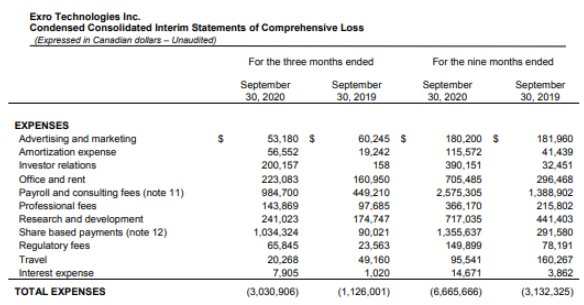 Source: Financials
And from the 2019 AIF, no revenue since inception:

Source: 2019 AIF
We are now in February 2021, and investors have the following from EXRO:
A 2018 initial announcement claiming early 2019 deliveries where the eventual delivery date of the prototype was June 2020
Claims of purchase orders that have so far generated $0 in revenue in 2019 and 2020
Expectations that EXRO will share performance results in 3Q21
It seems to us that EXRO could be overstating Potencia's potential – in its investor deck, EXRO claims that Potencia is one of the largest motor OEMs in Mexico:
Source: EXRO Investor Deck
EXRO's claim here would imply that Potencia Industrial is a large OEM of automotive motors. Our diligence would suggest otherwise: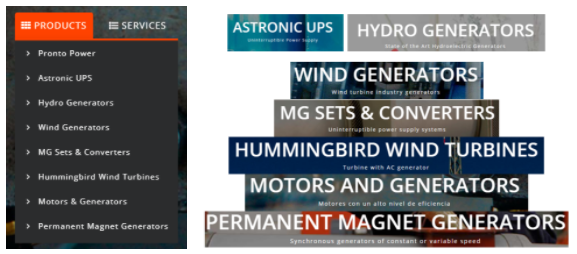 Sources: Astronic UPS, Hydro Generators, Wind Generators, MG Sets, Hummingbird, Motors & Generators, Permanent Magnet Generators
The ONLY automotive application we could find on Potencia's website was Pronto Power, a kit that Potencia sells for converting internal combustion vehicles to EVs

Source: Pronto Power
It doesn't look like Potencia even presents itself to customers as an EV or automotive player, as EXRO seems to suggest
Our view is that Potencia is most like a large industrial motor player, not a large automotive motor company.
Unfortunately, as we show below, it appears that overstating partnerships is a pattern for EXRO.
EXRO's other partnerships – not much more than press releases, in our view
Aside from Potencia, we believe that EXRO is overstating the potential of at least four of its announced deals.
Motorino Electric – a single storefront partner
In September 2019, EXRO announced that it signed its first licensing agreement Motorino Electric, a company it characterized as a "a pioneer in the Canadian electric transportation industry starting over 17 years ago with its first product launch, and now having dozens of products across the electric bicycle, electric scooter and electric motorcycle categories." For this deal, EXRO would be integrating one of its technologies into Motorino's CTi electric bicycle: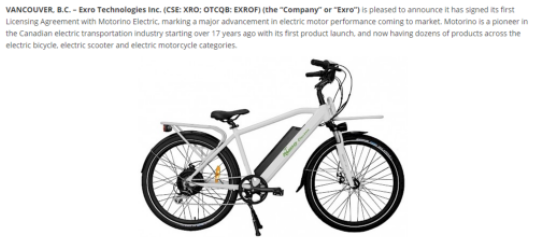 Source: EXRO Press Release
Now, investors might be forgiven, based on EXRO's description, to think that Motorino is some giant company, making electric bikes and other electric vehicles. The reality is quite different, in our view.
Motorino operates out of a single storefront in at 336 W 2nd Ave in Vancouver: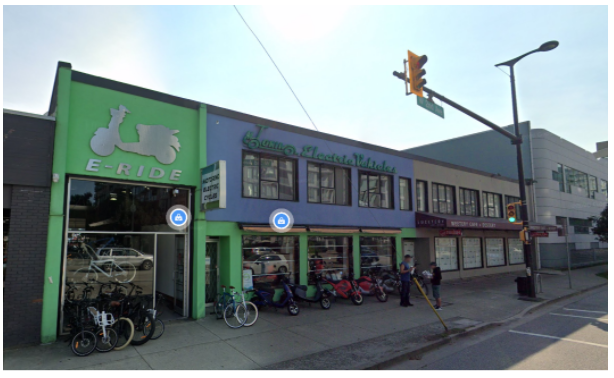 Source: Google Maps
Further, EXRO, by its own admission, is integrating its technology into ONE of Motorino's 26 different products, the Motorino CTi. At just CAD $1,950 a unit, we think the revenue opportunity for EXRO here is likely minimal:

Source: Motorino
When our investigator called Motorino to inquire about the EXRO-fitted bike, he was told that the performance improvement of the EXRO-fitted product would be marginal, more expensive, and if he wanted an e-bike, he should just buy one now. Not a ringing endorsement of the EXRO technology.
Templar Marine – a boat manufacturer headquartered at a UPS store?
In November 2019, EXRO put out a characteristically optimistic press release announcing its partnership with an "…e-Boat Leader in Multi-Billion-Dollar e-Marine Sector":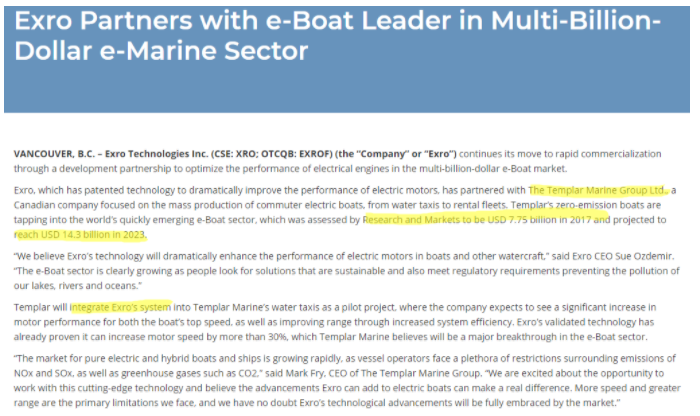 Source: EXRO Press Release
As you can see in the release, EXRO is partnering with one Templar Marine Group, Ltd., a Canadian company focused on producing electric boats. EXRO claims that Templar will be integrating EXRO's technology into its water taxis and implies that Templar is an e-boat leader in a giant, almost $8B market.
Our findings would suggest that Templar is more like Motorino, a small business.
Templar's own website gives the company address as #379, 9-3151 Lakeshore Road in Kelowna, British Columbia:

Source: Templar website
This address appears to be a box at a UPS store located at a strip mall in Kelowna:

Source: Google maps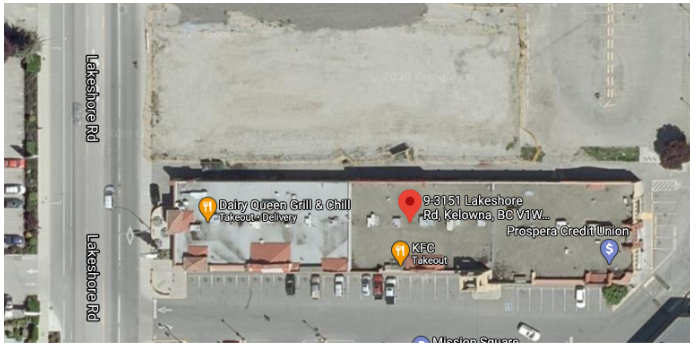 Source: Google maps
UPS's own website confirms that 9-3151 is, in fact, the address for the UPS Store in this strip mall: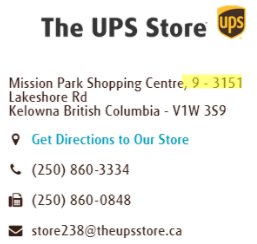 No showroom – no place where a potential customer can see and touch Templar's boats – just a UPS store mailbox. Hardly a strategy we'd employ.
The other unusual finding about Templar is that it only has one employee on LinkedIn – one of the co-owners, Jennifer Fry:

Source: LinkedIn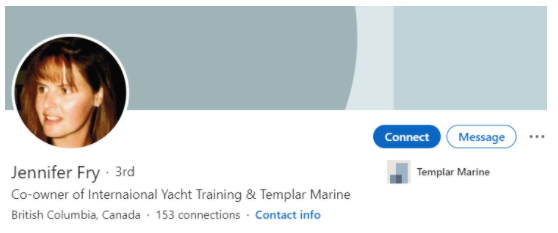 Source: LinkedIn
A minimal LinkedIn presence and headquarters at a UPS store don't scream "e-Boat leader" to us. It is our opinion that this is EXRO yet again overstating the size and revenue potential of a potential partner.
Aurora Powertrains – Proactive Investors overstates the potential
In February 2020, EXRO announced a strategic agreement with Aurora Powertrains, "…one of the world's most innovative manufacturers of snowmobile powertrains":

Source: EXRO Press Release
EXRO's CEO, Sue Ozdemir, was quoted as saying, "We are very excited to now be entering the snowmobile industry, which sees more than one billion dollars of global sales annually."
Based on this characterization, plus a puff-piece released by Proactive Investors calling Aurora "Finland's leading snowmobile manufacturer", we wouldn't fault investors for thinking this might be a significant deal.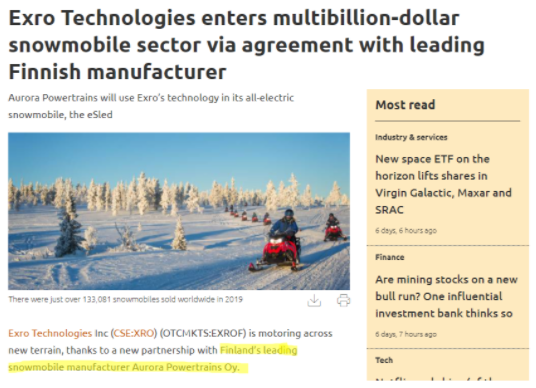 Source: Proactive Investors
Unsurprisingly, this is not the case. Finnish corporate filings for Aurora (which can be accessed using business ID 2825151-4) show that, for the twelve months ending April 30, 2020, Aurora did just EUR 530k in revenues and lost EUR 148k in net income: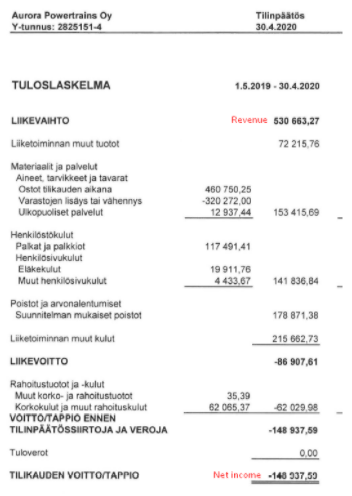 We would hardly characterize a business that does a little over half a million euro in revenue as "the leading" anything – nor is Aurora, at the revenue level, grabbing much share of the $1B market that Ozdemir mentioned.
Not to mention Aurora had just EUR 46k of cash on its balance sheet in April 2020: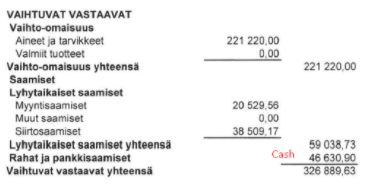 We have a hard time believing how a business with such a small revenue base and cash balance will be able to meaningfully contribute to EXRO's top line.
Clean Seed Capital Group – not on the same page as EXRO
In April 2020, EXRO announced that it signed a collaboration and supply agreement with Clean Seed Capital to "integrate Exro's technology into Clean Seed's high-tech agricultural seeder and planter platforms, advancing the electrification of the world's heavy-farm equipment."
Clean Seed, a TSX-listed company with ticker CSX, has only generated $5MM in revenue in the recent past, and has just CAD $2.3MM of cash on the balance sheet as of September 2020:
Source: Clean Seed MD&A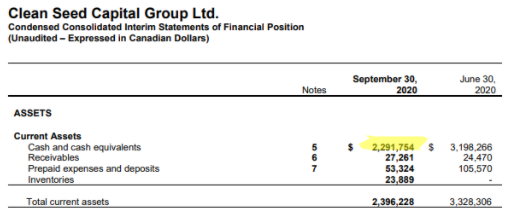 Source: Clean Seed Financials
In fact, in the three months ending September 2020, Clean Seed burned almost CAD $880k in cash, leaving it with just over 2.5 quarters of cash on its balance sheet at the current burn rate. Given its size and burn rate, it should come as no surprise that Clean Seed's own management noted, in the June 2020 MD&A, that it expected capital-intensive expenditures "…more likely would start in 2022" than fiscal 2021.
Additionally, in EXRO's release, the company claimed that Clean Seed "will be building a working prototype that will be implemented in the field by 2021" and that Clean Seed would "issue a purchase order to integrate Exro's electric-motor-enhancing technology into Clean Seed's latest technology offerings and beyond:"

Source: EXRO Press Release
However, in Clean Seed's release announcing the very same collaboration, there is no mention of a 2021 implementation nor any indication that Clean Seed will be purchasing ANYTHING from EXRO.
So, not only does Clean Seed have just $2.3MM on its balance sheet, it expects to deploy its capex in 2022 and has not mentioned anything about purchasing EXRO's product, despite EXRO's communications.
In our view, this would suggest that EXRO may be overstating the near-term potential of the Clean Seed relationship to investors.
To recap, here we have four EXRO business announcements where the business partner's size and scope don't seem to match EXRO's claims. While we don't question the legitimacy of these enterprises, we do question EXRO's characterizations of them and the likelihood that they will result in meaningful revenue for EXRO.
We believe that this is a concerning pattern that, combined with the CEO's stock sales and management history, should keep investors away from EXRO's stock.
A focus on payroll, not R&D
For a company that uses the word "technology" no less than 89 times in its Annual Information From, EXRO doesn't appear to prioritize R&D.
Since 2016, EXRO has spent at staggering 43% of its operating expenses on payroll and consulting but just 9% on research and development:

Source: Company filings
This perhaps explains the Potencia delays, and doesn't speak to the company investing in what it claims is a unique technological proposition.
Getting out while the getting is good
As EXRO's stock reached all-time highs in February, we've seen several executives exercise low priced options and sell what we view are meaningful amounts of stock (all amounts CAD):
Between 2/9 and 2/12, CFO John Meekison sold 50k shares for net proceeds of approximately $321k
Between 2/10 and 2/12, Strategic Advisor Eamonn Percy sold 100k shares for net proceeds of approximately $630k
On 2/17, Corporate Secretary Christina Boddy sold 13.3k shares for net proceeds of approximately $90k
The most concerning of these sales are from EXRO's CEO, however.
Sue Ozdemir, who took over from Mark Godsy (more on Mark later!) as CEO in 2019, seems to be a rush to lower her personal exposure to EXRO stock, for whatever reason. Since December 30, 2020, Sue has sold almost 18% of her ownership in EXRO stock, according to SEDI.
According to the SEDI data, Sue was granted 2.75MM options to purchase EXRO stock – 2MM on 9/13/19 and another 750k on 10/13/20, all with a strike price of CAD $0.25. It appears that she also acquired 37k shares "under a prospectus exemption" at CAD $0.27, giving her a total of 2.5 options and 37k shares.
Since 12/30, she's exercised 500k options and sold off the corresponding stock for a total of CAD $2.1MM in proceeds – in a four-week span. Sue began her substantial sales after EXRO's stock moved up over 1100%, and since 1/18/21 has not sold anymore (perhaps her remaining options are still unvested?)
We believe that her recent stock sales and falling exposure to EXRO are significant red flags in light of all of EXRO's announced partnerships.
Her stock sales raise serious questions:
Does Sue believe that the recent EV-driven increase in the stock exceeds the eventual value creation from the litany of deals EXRO has announced?
Is Sue concerned about the very same issues we raise in this report about the technology and revenue opportunity?
Our view is that if the CEO of a company is selling stock after a big move up, investors should take that a signal to stay away.
The Company's response to our question around stock sales was unsatisfying, essentially dodging the substance of our question:

The Mark Godsy playbook
EXRO's partnerships would suggest that EXRO implies, but never outright states, massive revenue opportunities. For example, mentioning the $1B snowmobile market without mentioning that their partner in the snowmobile market did less than EUR 600k in revenues in FY20.
It's like saying we played on the 1988 Jazz without telling people it was a team for eight-year olds that happened to be called the Jazz.
This pattern seems to extend to EXRO's former CEO and current chairman, Mark Godsy. Godsy, who took EXRO public through a reverse merger in 2017, was CEO through August 2019 and remains chairman of EXRO.
In several of Mark's biographies (the EXRO prospectus, the McGill website, and a 2020 investor deck), he makes reference to his success as an entrepreneur as founder of two companies in particular, ID Biomedical and Angiotech Pharmaceuticals:

Source: EXRO prospectus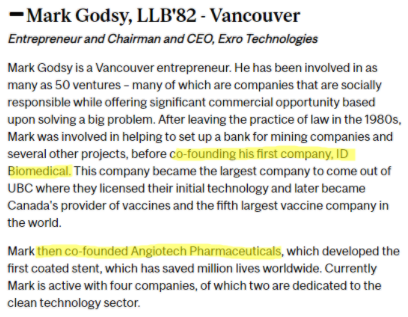 Source: McGill website

Source: June 2020 EXRO investor deck
With all due respect to Mark, we believe that he has overstated his contributions and successes at both businesses.
We believe that Mark had nothing to do with ID's GSK acquisition
Mark's biography, in our view, reads like he had a hand in or benefited from GSK's acquisition of ID Biomedical. Our work, below, suggests that Mark's time at ID had nearly nothing to do with the eventual success of the business.
Indeed, according to Godsy's bio in an Angiotech (more on this in a second) offering document, Mark Godsy was an officer of ID Biomedical from 1991 to 1995:

Source: Angiotech Offering Document
And in ID's 1997 AIF, we see that Godsy is a Director at ID: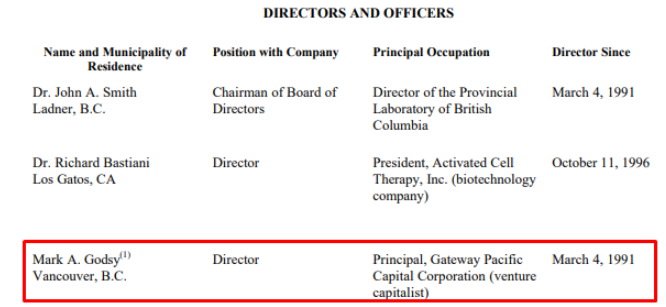 Source: ID Biomedical AIF
Sometime between this filing and the 1999 20-F, Mark Godsy left ID Biomedical's board: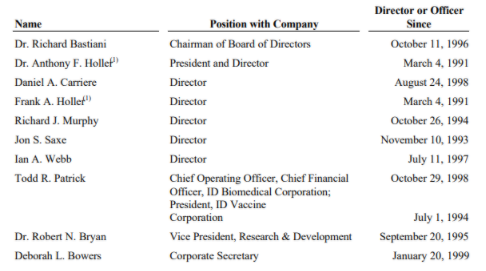 Source: ID Biomedical 20-F
The timeline here is critical – Mark Godsy was an officer of ID Biomedical from 1991 to 1995 and a Director of the company until sometime before mid-1999.
Why do we believe Godsy had nothing to do with GSK? Well, at the time Mark Godsy was involved with ID Biomedical, it was primarily involved in genetic diagnostics and the development of subunit vaccines for tuberculosis and Group A strep:

Source: ID Biomedical AIF
When GSK acquired ID Biomedical in 2005 (almost ten years since Godsy left the management team and about six since he left the board), it was primarily for ID's flu vaccine capabilities: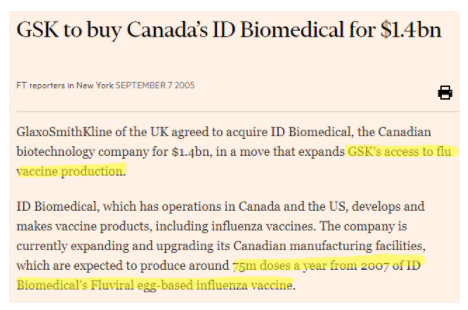 Source: FT

Source: CBC
ID Biomedical did not get into flu vaccines until 2001, when it bought Intellivax: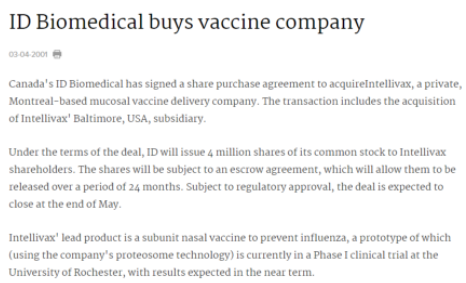 Source: thepharmaletter.com
By the time ID made its entry into flu vaccines in 2001, Godsy had been out of leadership for almost six years and off the board for around two. There is little chance he had any role in the strategy that led to ID's eventually acquisition by GSK.
We cannot verify Godsy's Angiotech claims
To recap, in EXRO's prospectus, Mark Godsy is described as a founder of Angiotech Pharmaceuticals; in his McGill biography, it says he founded Angiotech after founding ID Biomedical.
Our research would suggest neither of these claims hold water – but let's tackle the second one first. ID Biomedical, by its own admission, was incorporated in 1991:

Source: ID Biomedical AIF
Angiotech, by its own admission, was incorporated in 1989:

Source: Angiotech Offering Document
So perhaps someone got the timing wrong? Either way, we cannot find evidence to even support that Godsy was ever a founder of Angiotech.
A 1996 private placement offering document explicitly names the three founders of the company as William Hunter, Larry Arsenault, and Lindsay Machan: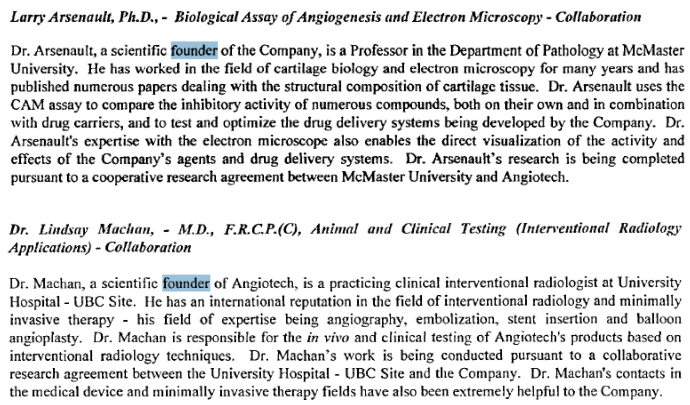 Source: Angiotech Offering Document
Mark Godsy, in fact, was a director of Angiotech at the time, but his biography in the offering document does not characterize him as being a founder (even though Dr. Arsenault, mentioned immediately after, is mentioned as a founder):

Source: Angiotech Offering Document
Angiotech's Wikipedia page similarly only mentions Drs. Hunter, Arsenault, and Machan:

Our view is that Mark Godsy may have been an early investor in Angiotech, and thus thought it appropriate to consider himself a founder – the public record, including Angiotech's own filings, suggests otherwise.
In our view, this exaggeration fits the same pattern as EXRO's partnership and business claims.
An unfortunate incident alleging a pump and dump
The smoke around Mark Godsy doesn't stop at his claims about the companies he claims to have founded: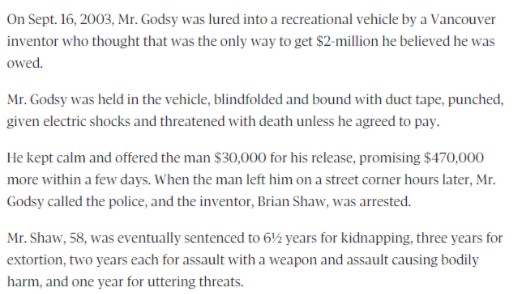 Source: Globe & Mail
We wouldn't bring this unfortunate incident up if it weren't for the things that came out at Mr. Shaw's trial. From a June 4, 2004, piece in the Vancouver Sun, we learn:
"Shaw accused Godsy of orchestrating a "pump and dump" — artificially inflating the share value through false representations and then dumping his shares on the open market through offshore accounts."
Now thankfully Godsy made it through this harrowing experience in one piece, but the pump-and-dump commentary is a cause for concern, in our view: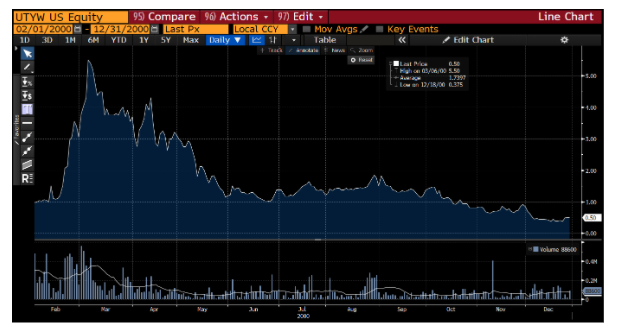 Source: Bloomberg
Source: SEC
While certainly not conclusive, we have:
A chart that looks like a pump-and-dump
Late disclosure on stock transactions
An admission by Godsy that he was invited to participate in a pump-and-dump, but declined
Based on that, it's probably not a stretch to conclude that Unity could have been a pump-and-dump, and despite Godsy's claims that he didn't participate in it, he was the CEO and largest shareholder during part of the pump and the eventual dump.
Did Godsy try to stop the pump-and-dump, since, by his own admission, it appears he was aware of it?
We believe that Godsy has a history that should call into question the credibility of any venture he is involved in, and investors should act accordingly.
Valuation
The Mariner Instant Replay shows:
EXRO's stock is up over 1200% on optimism that it will be some kind of credible EV player
EXRO, in fact, is offering up a technology platform that is not a priority for EV manufacturers, and appears to be best suited to wind turbines; given the R&D spend – we are not even sure the technology WORKS
EXRO has failed to achieve milestones in its critical Potencia partnership
EXRO appears to have overstated the potential of its other partnerships
It looks like EXRO's own CEO, Sue Ozdemir, sees the writing on the wall, has been rapidly reducing her exposure to EXRO, having sold almost 18% of her shares in a four-week period
EXRO's former CEO and current chairman, Mark Godsy, appears to have exaggerated his involvement in prior ventures and admitted knowledge of a pump-and-dump of a company he led
Before we start talking about price targets, let's take a quick break to go through the Mariner stock promote checklist:
A "hypeable" business, say, EVs
Dollars spent on G&A, but not a whole lot on the technology that's supposedly game-changing
Investor hype up about an unproven technology that seems largely hypothetical
In our view, EXRO checks all these boxes. Our view is that EXRO is little more than a vehicle to enrich its management team rather than a company that will bring some kind of revolutionary technology to market.
The question is then, how do you value a company with a bunch of patents no one is using, with no revenue, and a raft of positive press with nothing to show for it? Our best guess is cash value per share, or approximately 8 cents a share.
Perhaps that is too draconian, so let's simply say EXRO's prospects are no better than they were before the stock started running, so around $0.35 per share, down over 90% from the most recent close.
Appendix – Company response to our questions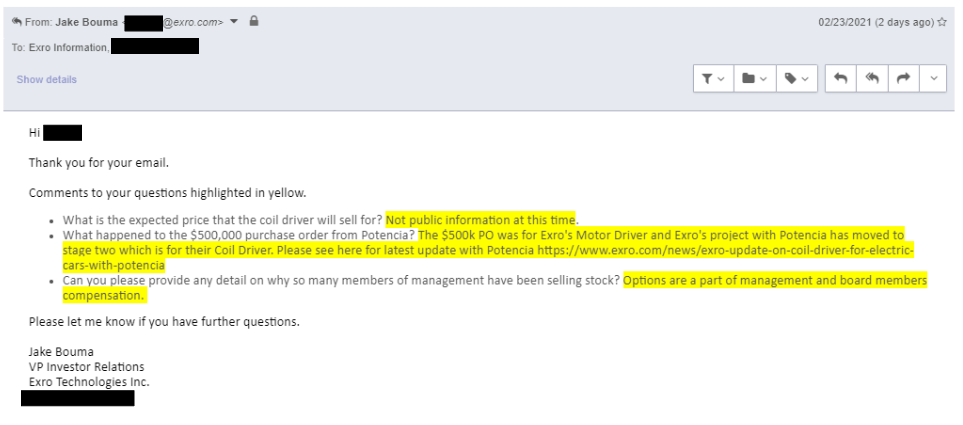 Author's note
3/5/21 – we edited this piece to reflect commentary provided by Potencia Industrial regarding its facility size.